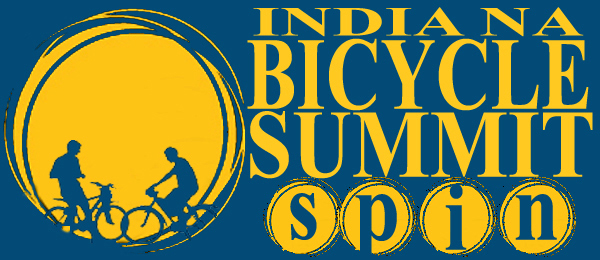 This past Friday and Saturday Indianapolis played host to the first annual Bike Summit. Bicycle Indiana, the statewide cycling advocacy organization, organized this informative and exciting event, and Bicycle Lafayette was there for all the action.
The first apparent theme of the conference covered a variety of the health benefits of cycling and the importance of recognizing the peril facing our state if we don't encourage people to get up and move. Representatives from the State Department of Health kicked off the event by sharing some startling statistics on the rapidly growing obesity rate in Indiana. We are fast becoming the most obese state. Right now the obesity rate in Indiana is on track to reach 56% by 2030. Look to your right and left… that means that in 2030, statistically speaking, you or the person you are looking at, will be obese. Moreover, according to studies done just last year by the ISDoH, of the 92 counties in Indiana, Tippecanoe County is ranked 20th for most unhealthy counties. Later a great talk by the Cleveland Clinic on controlling healthcare costs by encouraging bicycling and walking. In addition to creating infrastructure on their campus to encourage such activities he spoke on other ideas like giving commuters that ride their bike to work gift certifications for the local bike shop in return for their choice to take a cleaner, healthier method of transportation to work.
This message resonated with me personally almost more than any other from the conference. A few years ago I found out I was going to be a father. I have never been a very active person and my health reflected that. Being a larger person (read as "fat"), I was never comfortable with the idea of going to a gym and sweating profusely in front of a bunch of super fit looking people. I think many people share that sentiment. I decided to do something I used to love to do long before the real world scared me into seclusion; I decided to go get a bicycle. A year later, after riding at first just a few days a week, then 5 days, and eventually everyday, I had lost 100 pounds. In that year I fell in love with bicycles. Not only did I feel healthier than I ever had, but I was happier than I ever had been as well. Today I ride my bike to work every day that I can. My family only has 1 car, which has been a hard change, but has helped us reduce our carbon footprint and encourages me to ride my bike even more. Ultimately my passion for cycling, improving my health, and this new love lead to the forming of this advocacy group. I want others to feel the benefits of riding a bicycle, from the health benefits to the fun that comes from the sense of community you get riding around town and passing other cyclists. I want our city to recognize that I am not the only person who would ride their bike regularly and that the only way we can encourage more cycling and walking is by educating the public on the rules of the road and helping to make those rules more effective and sensible. The summit reminded me just how important our mission is for everyone.
The next big topic covered at the conference was cycling infrastructure. Mayor Ballard of Indianapolis and many other city officials from around the state took the podium at one point or another to talk about the ways in which they have recognized a need for cycling facilities (bike lanes, trails, greenways, etc). Just 4 years ago Indianapolis had as many bike lanes as Lafayette, just 2 miles. In the past 4 years, under the leadership of Mayor Ballard, the city has installed around 75 miles of bicycle facilities. Bloomington, Richmond, South Bend, Elkhart and more cities echoed Ballard's message that cycling must be embraced for the good of our state and our nation. Mayor Ballard leads regular rides that any joe cyclist can join. He participates in a variety of events and even came to the conference in his favorite St. Patty's Day Cycling Jersey. You can rest assured the Bicycle Lafayette will be using these examples to lobby for such infrastructure improvements here in Tippecanoe County as well. If Indianapolis and Bloomington can make these kinds of changes in such a short time, there should be no reason that Lafayette and West Lafayette can't investigate accelerating their timelines as well. The League of American Bicyclists spent a great deal of time going over the AASHTO guide that is designed for city engineers as a way to ensure that all projects consider bicycle and pedestrian improvements. As the presenters went over the various examples of how to properly install bicycle and pedestrian facilities we found ourselves easily pointing out locations in Lafayette and West Lafayette where we have clearly not gotten our implementation right. After that presentation I am confident that both cities will have a hard time acquiring the Bicycle Friendly Community designation they both seek.  It will take some work before either city is ready for even a bronze level. Fortunately, from our conversations with city officials from both sides of the river, each city is willing to do what it takes to get there.
Lastly we had the opportunity to meet with advocacy group leaders from around the state. Many of them shared insights into overcoming some of the same challenges we are facing. Several group leaders, including Kevin Whited of IndyCog, took time to sit down with us and provide some great information on getting our movement off the ground while avoiding some of the typical pitfalls. With guidance from people like Kevin, Mark from Richmond, Danny from Elkhart, and more from all over Indiana, we have outlined several key projects that we will use to begin improving our community through education and activism. There will be lots of information coming in the near future on those projects as we continue to flush them out and especially how you can get involved.
Overall the conference was an amazing experience. Bicycle Indiana is such a valuable resource to this state and we look forward to working with them, and the connections we made at the conference, to help further our mission to promote cycling as a safe, viable, and healthy method of transportation and recreation.