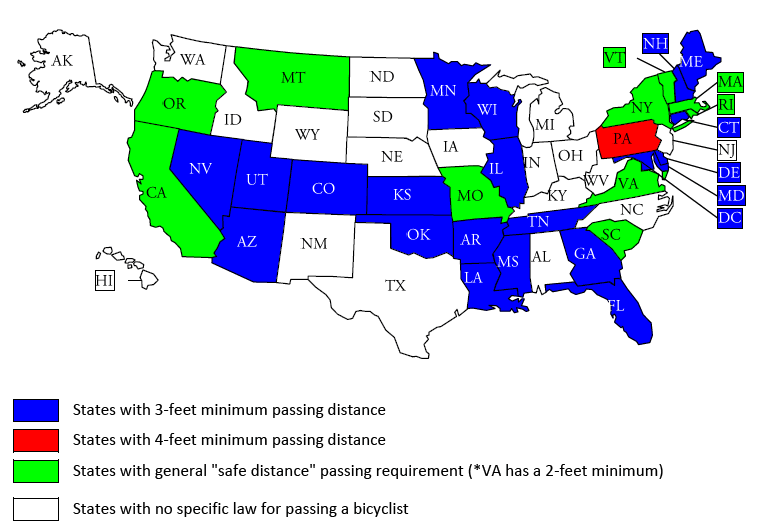 Bicyclists are required to obey most of, if not all of, the same ordinances and laws applicable to a motor vehicle. However, bicyclists are most certainly not treated the same as other motor vehicles when traveling on the roads.
There is an ordinance gaining wide acceptance and favor across Indiana and the country. Many have realized that, in order for a bicyclist to be given the respect deserved, and owed, by the law more has to be done. A safe passing ordinance has been enacted in Indianapolis, Fort Wayne, South Bend, and soon Shelbyville (fingers crossed for them). This ordinance states that any motorist wishing to pass a cyclists on the road must give that cyclist at least 3 foot of space between the car and bicyclist.
We can't convince the cities of Lafayette or West Lafayette to magically grow money for bike lanes (although we are trying), but we can ask them to do other things. Other things like pass our own safe passing ordinance to show that they truly care about making our cities real bicycle friendly communities. West Lafayette City Councilor Eddie VanBogaert (District 1) has heard our calls for improvements and is sponsoring a safe passing ordinance that will go before the West Lafayette City Council in May. Motorists need to be made aware that bicycles have as much of a right to the road as they do and this is a great first step at doing just that. Making cyclists feel safe and respected on the roads means more cyclists will take to the road. More cyclists on the roads means less congested streets, empty parking spots, and a healthier county.
We plan on making sure there is a small army of cyclists present to share our feelings for the importance of this ordinance. If you would like to join us, the West Lafayette City Council meets the first Monday of the month at 6:30 p.m. at City Hall. The pre-council meeting — in which the members discuss the agenda (including unfinished and new business) — occurs the Thursday before the council session and is held in the Lower Level Conference Room in City Hall. The public is welcome to attend all meetings of the council. We have missed the deadline for this ordinance to be put on the table for April, but we have been assured it will be on the agenda in May (BIKE MONTH). Come show your support.
 In the meantime, if you support this ordinance, let your voice be heard by

signing our petition

which we will hand deliver to the common council of West Lafayette, and Lafayette in turn.