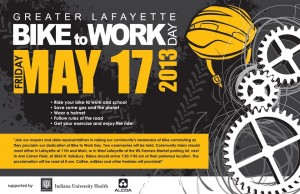 We're teaming up with the Wabash River Cycle Club, Alcoa, and I.U. Health to put on Bike to Work Day this May! Check out the details below!
Ride Your Bike to Work Day
Friday, May 17 • 7:45–8:15 am
Two locations this year!  Downtown Lafayette at 11th and Main Street, or the parking lot on Salisbury north of Cumberland used by the West Lafayette Farmers' Market
Supported by WRCC, Bicycle Lafayette, Alcoa, and I.U. Health
C'mon down to the Bike to Work Day celebration on Friday May 17th in either Lafayette near KD's Coffee, or the parking lot on Salisbury next to the Arni Cohen Softball Fields.  Riders should arrive 7:30-7:45 am at their preferred location.  At 8 am local potentates will give speeches about cycling and read a proclamation supporting national Bike to Work Day in both locations. There'll be coffee and things to eat, and maybe a few cool little gifts and freebies.
It's important to turn out for the Bike to Work Day rally in a town where there is an avid cycling community and a lot of opposition to cyclists slowing down traffic and impeding motorists (if you read the Rapid Response piece on the 3' passing ordinance that WL is considering in the JC over the weekend, you saw plenty of evidence of this).  This event calls the community's attention to the legitimacy of bicyclists on the roads, and promotes commuting to work by bike.  So please show up, and pass the word along to colleagues, friends, and neighbors.  We need to do what we can to promote changes in attitudes, laws, and amenities (bike lanes, racks) that make Lafayette an easier, safer place to ride bikes. Once we reach a critical mass, drivers become more aware of bikes on the road and cut us more slack in traffic, employers accommodate employees who commute to work and shower/change before they appear at their posts, people realize that bicycles are the ultimate green vehicle–and change snowballs, especially as people become more aware of the national obesity epidemic and chronically high gas prices.  So help make it happen!  Show up on May 17th!
? Pat Boling
WRCC Advocacy Chair